John and Tikvah, together with their 4-yr-old twin daughters Noiya and Shaked minister as an eldership family in a Jerusalem Messianic congregation called Nachalat Yeshuateinu (The Inheritance of our Salvation.) John serves as assistant pastor and worship leader while Tikvah leads the worship dancers, giving prophetic words with translation into Hebrew. Dance outreach at Jaffa Gate Plaza continues as Tikvah and dancers engage Israelis with Circle Dance presenting the Hebrew scriptures centered on Salvation set to music. Supporting Homeschooling with others alongside weekly Children's praise watches, Otts also minister abroad imparting vision for the One-New-Man in Messiah Yeshua. Together they host Shabbat dinners in their home for international visitors looking to experience local Messianic Jewish traditions.

As a family they host a weekly children's praise watch, leading a regular worship watch as well midweek at Succat Hallel 24-HR worship center. They also host Shabbat dinners in their home to expose international believers to a Messianic Jewish experience.

Strengthening marriages as One New Man couples in Jerusalem is part of their local body life in a monthly home group. Tikvah and John teach and care for their 4-year-old twin daughters, engaging them with a local home-schooling group of believing families.
Joseph's church is shepherded by the HaCarmel Messianic congregation in Haifa. God's heart is not only for the Lebanese, but for all Arab people, inside and outside of Israel. They praise the Lord for his faithfulness in watching over the flock in Nahariya, the number of the sheep is constantly growing up and they are still in the process of looking for a larger meeting place. Their mercy ministry with the single moms and the disadvantaged families is growing up as well. They serve now 15 needy families by distributing to them food, clothing, powdered milk, diapers, electric fans in summer time and electric heaters in winter time and other necessary items for their daily living.

They have been putting a special emphasis on working with the youth to equip the youth for future ministries. Through the financial assistance of Fellowship Church they were able to send two young girls to study guitar and keyboard at the music school of Leon Mazin's Messianic congregation.

Their youth group is doing well too: they are training the youth group to do evangelism through drama as they go twice a year to the Nahariya promenade and distribute Christian literature and an electric device that has the recorded audio bible both the old testament and new testament in Hebrew, Arabic and Russian languages. This is a great opportunity to win souls to the kingdom in northern Israel.

They continue our outreach to Cana in Galilee, and are in the process of building a house of prayer and worship through the financial assistance of Fellowship Church and other partners that Pastor John shared the vision with for the local flock in Cana which is constantly increasing.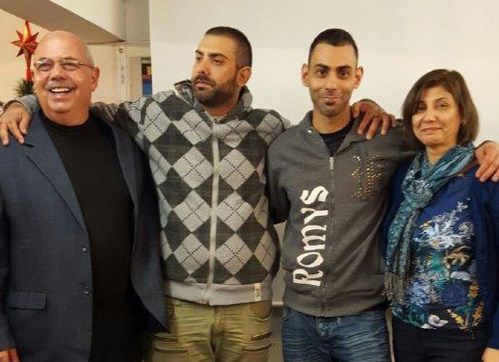 About 5 years ago, Danny sensed that God was speaking to him about finding a piece of land to be used for His glory. Land in the area is very expensive, but God gave them the idea to ask the local Catholic monastery for a piece of their land. Eventually the monastery called Danny and said to choose whatever piece of land he wanted. There was a beautiful, but apparently worthless olive grove next to a water reservoir that had never produce olives. After a year of prayer and irrigation the trees were loaded with olives. The money from the olive crop now helps fund the ministry. Tammy is a deacon at the congregation that's in charge of the single mothers, widows and orphans and abused women. There are 34 of them in the congregation. She is also an advisor for women who want an abortion and leading them to save their babies. The testimonies are amazing! Tammy is also in charge for the children's Shabbath school at the congregation and it puts a lot of responsibility on her to make sure the program is good. Danny is producing olive oil and praying that the Lord will bless it so that a fund can be opened from its income to support those families that struggle with their basic bills.

Their vision is to be able to build the Tabernacle on the way to Jerusalem so that it can be used as a tool to evangelize to the lost sheep of the house of Israel. The Lord also strongly put on their hearts to evangelize to the Jewish Orthodox religious, which is a huge challenge and an open door for persecution. Danny and Tammy have some of the neediest people in their congregation and serve them by providing transportation to church, medical appointments, social security meetings, etc.
What started as an occasional visitor sharing a meal at their home, HaMiflaht, has turned into a full time job feeding and sheltering the lonely. HaMiflaht means "The Refuge" in Hebrew. It is a place that soldiers who are alone and new immigrants can come for Shabbat dinner each week. Most nights there are anywhere from 2-6 soldiers spending the night in their spare bedrooms. HaMiflaht is a place of love and family for those who do not have a place to call home.

The Johnson's open their home and hearts to lonely soldiers, 24/7, providing a bed for those who need rest, an ear to listen, a word of comfort or correction when necessary. Scott grills chicken wings each week for the Friday night meal. All are welcome at their table to partake in the festive Sabbath meal. They encourage each one that comes to us to make use of the gifts God has given, not for their benefit but the good of all. Because this is a home, many who have come through their doors continue to return long after their army service is finished. They are family.

As the Johnsons look back over the last decade at those who came as lost, troubled, hurting youth, they can see how God has used us to impart wisdom, develop moral character, give guidance and direction. This has empowered many to not only excel in the army but dream big, attaining degrees from University and or securing good positions in government, banking, the arts and hi-tech.

But, they believe the most important aspect of helping to raise up leaders is this: because they have a relationship with us their life is forever changed due to the light we carry, which is Yeshua (Jesus).

Explore Other Focus Areas: