There's a place for you here.
Upcoming Events & Gatherings
Summer Nights
June 10 and July 8
Join us at 6:30pm for a time full
of good food and even better people!
Location: Student Building at Fellowship Middlebrook

Summer Study
June 21 & 28, July 12 & 19
Join us as we walk through a four week study. It will be at 7pm in the Cafe.
June 17 & July 22
Come grab some dinner and hangout at Central Filling station with other Young Adults.
6:30-8:30pm
June 26
Come hangout with us for the day as we raft down the Ocoee and escape the Summer Heat!
July 18
Grab some of your people and head down to Atlanta to watch the Braves vs Rays. We have a limited number of tickets, so sign up soon! More details to come.
Inviting Young Adults into life with God and each other.
To be a people that Live in Honesty with Hope
In Community with Calling.
Come Join Us.
If you are new to Fellowship or have been around for a while but feel disconnected and would like to connect with others and learn more about the Young Adult ministry then attend one of our new person connect gatherings. Register below!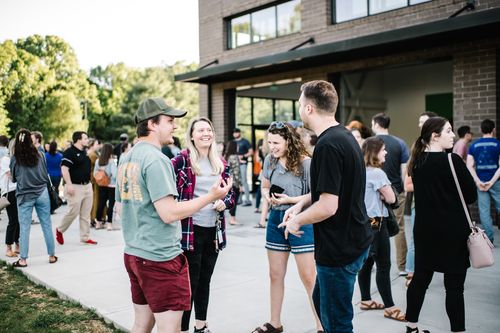 The first Thursday of the month we have our young adult gathering. This is a time for our young adults to come together for a time of worship, teaching and community!
We believe that the gospel invites us into life with God and each other. Joining a young adult group is a great next step into exactly that.
Life with God and each other.
Our heart is be a ministry that does not exist for ourselves, but for the sake of others and to that end we partner with local & global organizations to serve those in need. Email Lara Davis for more information!
Follow us on Social Media and listen to our Podcast.
The Young Adult podcast provides updates on the YA ministry, interviews with young adults, messages from gatherings, and Q&A episodes with the YA Team.
We'd love to hear from you. Fill out the form below to get started.